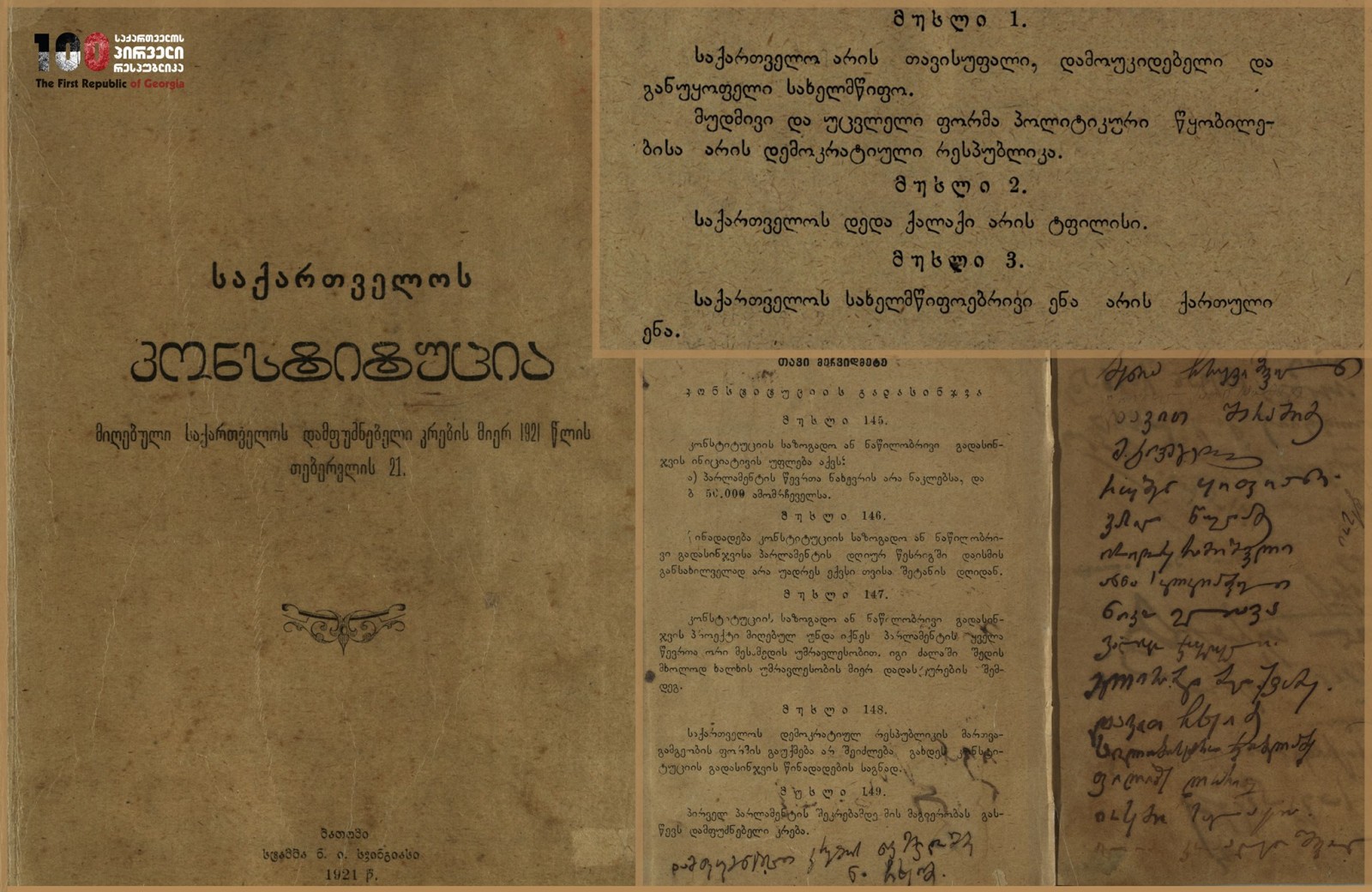 The Constitution relied on the principles of the Act of Independence of Georgia, adopted on 26 May, 1918.
The Constitution of the Democratic Republic of Georgia, a progressively recognized document at the time, consists of 17 chapters and 149 articles. According to the main law of the country, Democratic Republic became a form of government operating. The constitution guarantees the rights of women, religious and ethnic minorities; capital punishment was abolished.
The first meeting of the Constitutional Commission of Georgia was held on 7 June, 1918. Sergi Japaridze was elected as a chairman of the commission and Pavle Sakvarelidze – as a secretary of the Commission. The members of the multi-party commission were: Noe Zhordania, Ivane Cherkezishvili, Grigol Rtskhiladze, Samson Dadiani, Giorgi Gvazava, Konstantine Makashvili. A month later, several members of the commission were replaced by new ones: Leo Natadze (instead on Noe Zhordania), Mariam Chkheidze (instead of Ivane Cherkezishvili), Aleksandre Tsereteli (instead of Grigol Rtskhiladze), Geronti Kikodze and Spiridon Kedia (instead of Giorgi Gvazava).
After the elections of the Constituent Assembly, in March 1919, a new Constitutional commission, comprising of fifteen members, was created. The composition of the commission members has changed several times. It was headed by Razhden Arsenidze and later – by Pavle Sakvarelidze.
The draft of the Constituent was fully published in May 1920 and was handed to the members of Constituent Assembly for discussion. Several meetings were dedicated to the discussion of the project. Finally, on 21 February, 1921 the Georgian Constituent Assembly adopted the first Constitution of Georgia. At the same time, the Georgian Armed Forces were fighting against the Russian troops in Tbilisi.
The constitution was published in March 1921 in the printing house of Nestor Khvingia in Batumi. The presented copy of the publication is presented with the signatures of the members of the Constituent Assembly.
The document belongs to the Parliament of Georgia and is preserved in the National Archives of Georgia.