The founder of the Georgian modern theater, director Kote Marjanishvili was born 150 years ago, in 1872, in Kvareli.
"He came to this world to transform his native theater and take it to a height where the Georgian theater, as a whole harmonious organism, has never risen. A new theater was created under his leadership. All the people gathered around Marjanishvili, who with their creative thinking and talent had to stand in the forgotten service for the art of the people. Such a combination of thoughts and feelings, such a unity of actors of different generations was unknown to the Georgian theater until now ...
"Our stage was festive, filled with the sounds of music, played with thousands of colors, Marjanishvili brought great importance to all the little things, animation, life was established in the Georgian theater" - wrote the actor Veriko Anjaparidze in the album "Marjanishvili" published in 1972.
Kote Marjanishvili became interested in theater while still a student at the First Gymnasium in Tbilisi. His acting debut in Kutaisi, during the 1893-94 season of the Kote Meskhi Theater, a. Dumas took place in "Son of Sin", although the amateur theater had established him in his native Kvareli much earlier.

Kote Marjanishvili recalls: "I used to go to the village during the high school holidays and perform ... I was the main actor and director in my theater, decorator and soufflé, dummy ....
The spectators were the Kakhetian peasants of Darbais. I do not know how they liked my performances ... I remember one of them turning into gomijas, apples and churchkheli - my abundantly spread meat ... "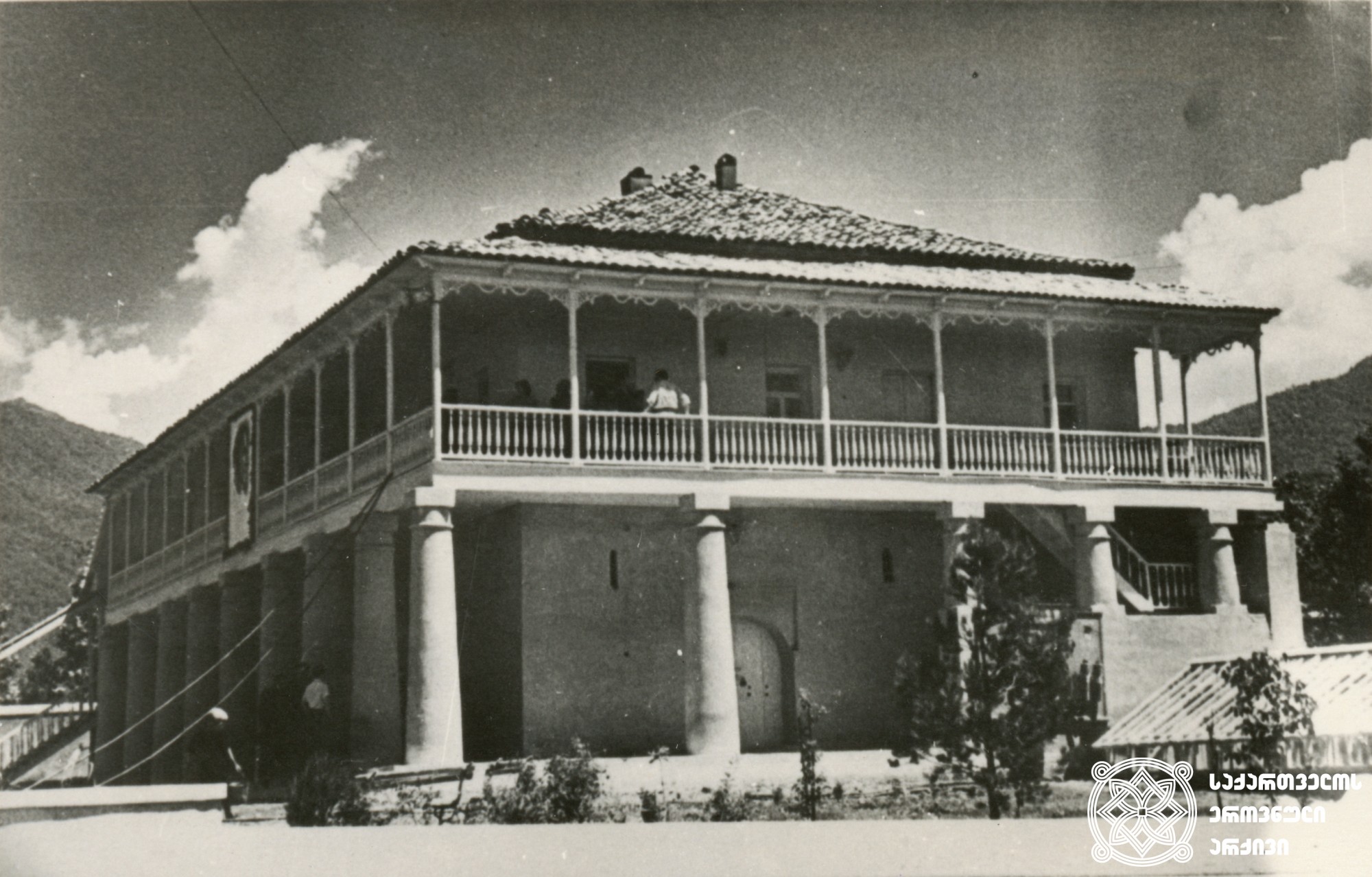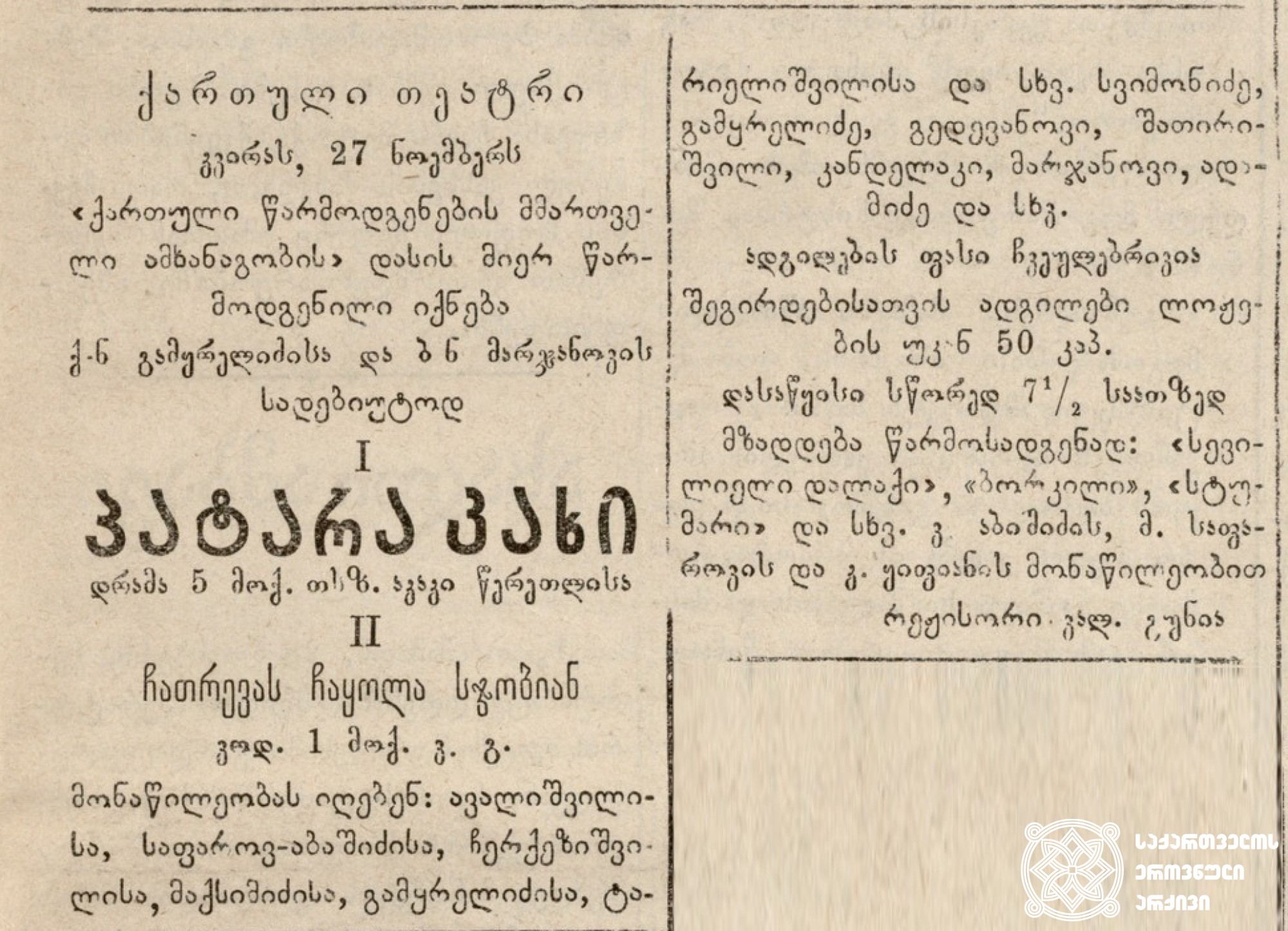 The newspaper poster informs us that on November 27, 1894, the performances "Little Kakhi" and "It is better to put it in" were planned in the Georgian theater.

We also read that Akaki Tsereteli's drama and Valerian Gunia vaudeville presented the "Georgian Performance Ruling Partnership" vaudeville "Marjanov's debut".

In 1897 Kote Marjanishvili left Georgia and worked in theaters of different countries. From 1904 he began his directing career. Performances in theaters of Kiev, Kharkov, Odessa, Moscow.
In 1922, the director returned to his homeland. After three performances at the Russian Theater in Tbilisi, he performed Lope de Vega's "Sheep Source" on the stage of the Rustaveli Theater. The play turned out to be a milestone for the Georgian theater.
In 1922-26, Kote Marjanishvili staged Giorgi Eristavi's "Divorce", Jean-Baptiste Moliere's "Noble Mdabio", William Shakespeare's "Undzoreli Funny Women" and "Hamlet", Grigol Robakidze's "Lamara" and other performances at the Rustaveli Theater.
Due to disagreements in the troupe, the director left the Rustaveli Theater in 1926.
In the 1920s, Kote Marjanishvili made six feature films of various genres.
"Qarishkhlis Tsin" (1924)
"Samanishvilis Dedinatsvali" (1927)
"Gogi Ratiani" (1927)
"Amoki" (1927)
"Krazana" (1928)
"Komunaris Chibukhi" (1929)
Nato Vachnadze thought: "Kote Marjanishvili's work was characterized by great passion and admiration ... like no one else, Marjanishvili could see beauty in people, could play in art ... Working with him was a great pleasure for me and all employees, he was scattering fireworks like fireworks And we used to seize this wealth as much as we could. "
In 1928, Kote Marjanishvili gathered like-minded people and on November 3 of the same year, with the play "Hopla, Chven Vcockhlobt!", He founded the Kutaisi-Batumi State Drama Theater.
In 1930, after a successful tour, the newly established theater, as the second state theater, was housed in the Zubalashvili People's House in Tbilisi.
Kote Marjanishvili:
"Theater is what fills our daily lives.
Elements of theater or performance accompany the soul of every human being, because acting is the true essence of theater and it sits in each of us.
Theater itself becomes art only when it combines two qualities characteristic of other fields of art: rhythm and mastery, and because the task of any kind of art (and especially theater) is to transform the past and the future into a pleasant present, to transform it into the rhythm of the modern age. It is clear that
Each era has its own theater and its own reality. "