Law on Establishing Central Scientific Archives of the Republic
On May 26, 1918, after the declaration of independence of Georgia, the issue of collecting archival materials was on the agenda. In June of the same year, work began on a bill on the organization of archives and archival fonds.

Ekvtime Takaishvili, a historian, public figure and member of the Presidium of the Constituent Assembly of Georgia, spoke about the need to create an archive in a letter sent to the Democratic Government of Georgia on January 12, 1920.

According to the law adopted on April 23, 1920, the first archival institution - the Central Scientific Archive - was established in Georgia.

The budget of the archive, the staff schedule were determined by the law and and it was decided to collect the archives in Tbilisi.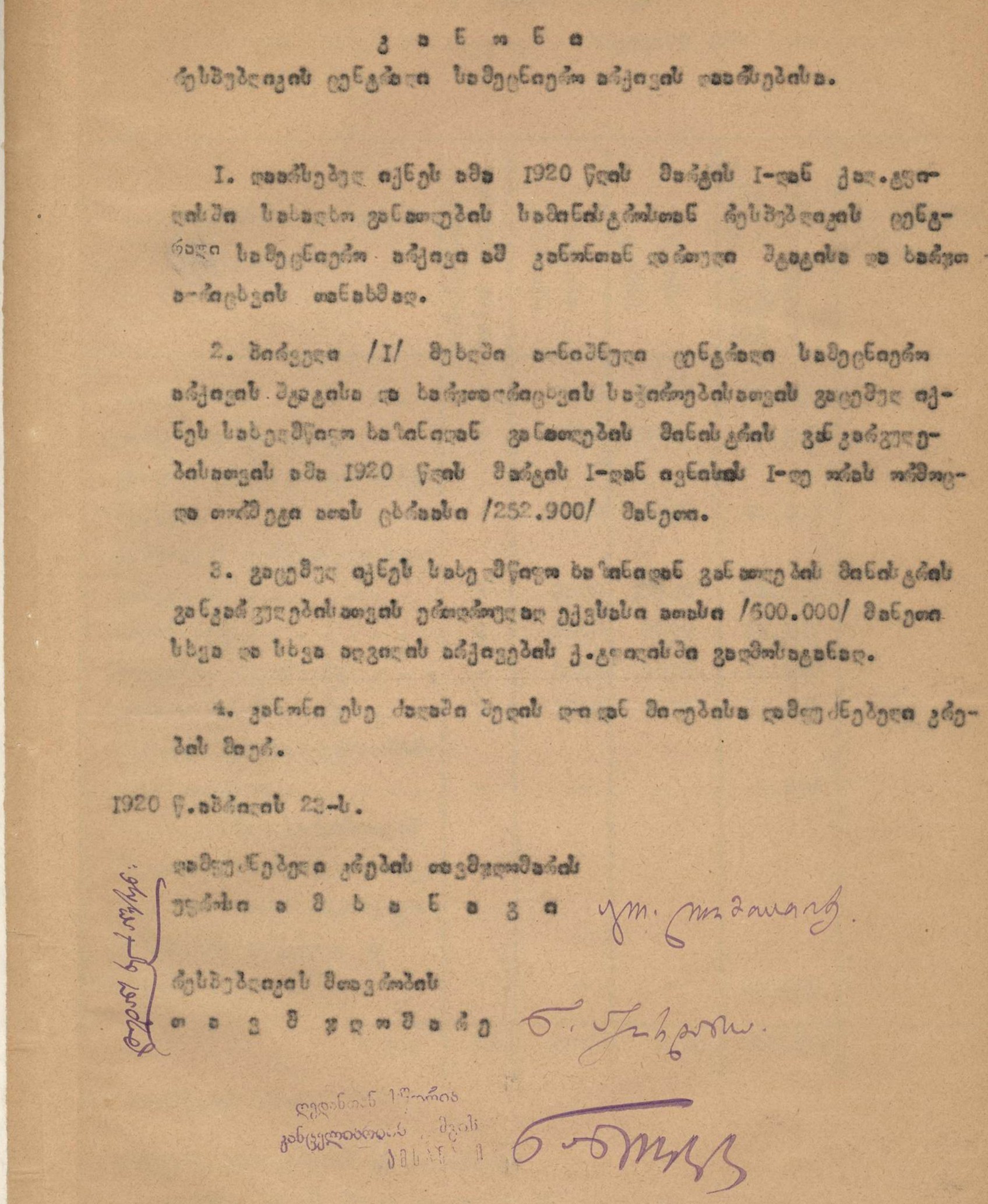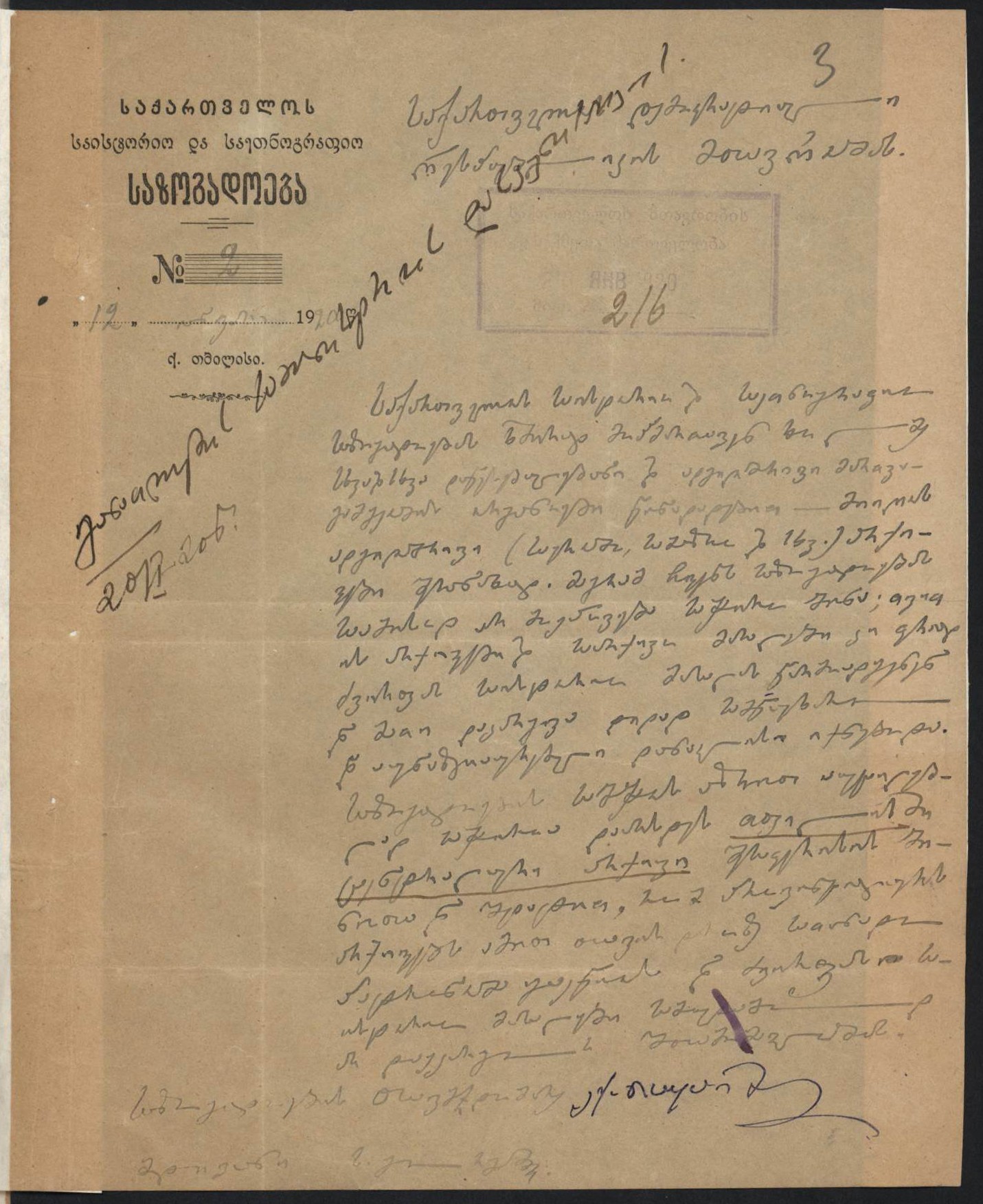 Ekvtime Takaishvili, as a Head of the Historical and Ethnographic Society was addressing the Government:
"Historical and Ethnographic Society of Georgia is often applied by the various institutions and local authorities with a proposal - to receive the local district and other archives, but our society does not possess the necessary house for this purpose; and those archives and archival materials represent a very precious historical material and their loss would have been very sad and a devastating loss.

According to the Council of the Society, it is definitely necessary to establish a central archive in Tbilisi with a suitable house and staff, so that the provincial archives were properly cared in time and valuable historical materials should not be lost to their descendants forever.

Chairman of the Society Ekvtime Takaishvili."

January 12, 1920.
Written monuments of the documentary memory of the Georgian people are kept in the National Archives of Georgia. There are 4 central archives in the archive system: Historical, Contemporary History, Audio-Visual and Kutaisi archives, as well as regional and local archives.
National Archival fonds preserve:
Written documents unified in more than 5 million archival items of more than 10,000 fonds;
Over 440,000 photo documents;
Over 20,000 audio documents;
Over 34,000 film documents.
The material preserved in the National Archives includes a large chronological section of the history of Georgia and a sufficiently wide geographical area of ​​world history.
The depositories of the National Archives of Georgia preserve historical documents on parchment or paper, documents copied out by hand, typed or modern electronic ones; collections of various types and contents, private archives, administrative fonds, photos, drawings, drafts, maps, posters, memorial items.
AUDIO ARCHIVE PRESERVED THE VOICE RECORDS OF FAMOUS WRITERS, POETS, SCIENTISTS, AND PUBLIC FIGURES TO OUR DAYS.
GALAKTIONI READ "MTATSMINDIS MTVARE" (MTATSMINDA MOON) ON DECEMBER 22, 1953 IN BATUMI, ON THE 45TH ANNIVERSARY OF HIS LITERARY EFFORT: